---
Although the exact start date of the Sunday Night Hockey League (SNHL) is unknown, our longest standing member, Brian Dunn, estimates the league was founded around 1986 by the late "Commissioner", Jerry Callaghan. Back then the league was know as the "Mayfield Mens Hockey League", and was a place where Caledon minor hockey players could continue playing hockey as young adults. Years later the league moved to Bolton and operated as the "Bolton Jr. Men's Hockey League". Over the years the league has operated under a few other names, including the "Mr. Sub Jr. Men's Hockey League" followed by the "Sunday Night Jr. Men's Hockey League" (SNJMHL).
In 2008, after the Commissioner's sudden passing, the league was adopted by Steve Conforti. To end that season, the league introduced a the first ever championship trophy, appropriately named the Callaghan Cup. With 2016 marking the league's 30th anniversary, the SNJMHL dropped the "Jr. Men's" and was rebranded as the "Sunday Night Hockey League". The rebrand included a new logo as well as this website.
The league also introduced a charity hockey fundraiser in 2016 called The FACEOFF to Fight Cervical Cancer, in support of Tealpower.ca. The game featuring the  guys of the SNHL All-Stars versus the girls of the Brampton/Markham Thunder (CWHL) women's professional hockey team.  The FACEOFF to Fight turned into a 3 year event which in total raised $20,000 in support of Tealpower.
---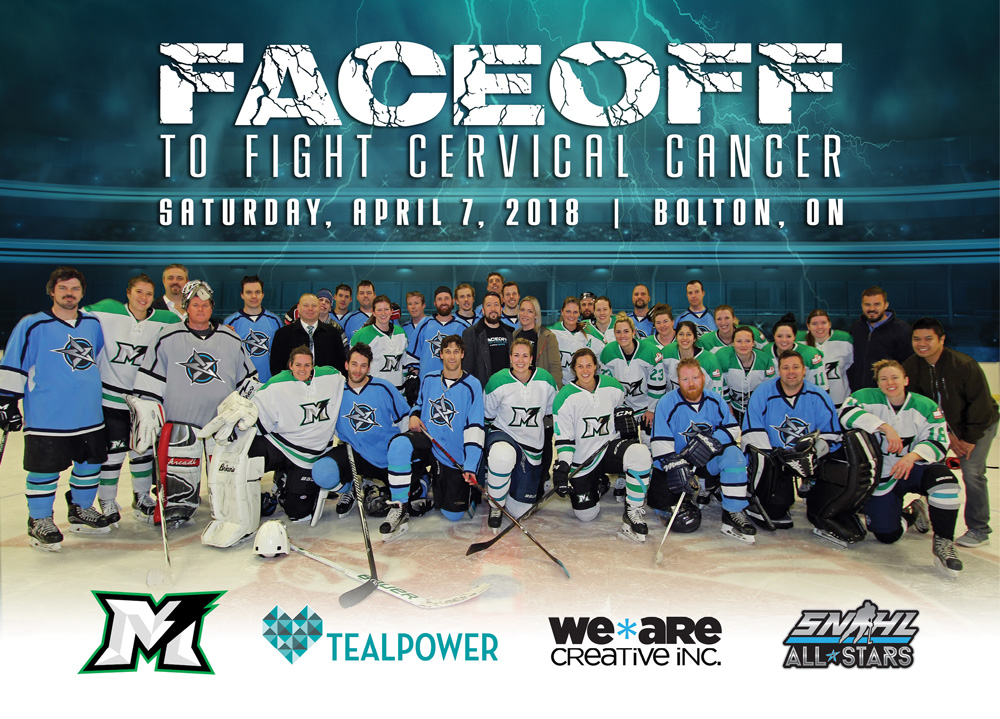 ---
Quick Facts:
The SNHL is the GTA's premier men's rec hockey league
For ages 19 to 50+
Fast paced and highly competitive
Draft league featuring 8 teams with 112 players
High quality jerseys and socks are provided
Season runs from September to April
Games played at Bolton & Mayfield Arenas in Caledon, ON
18-20 regular season games
7 game round robin playoff games
Top-4 RR teams play in the semi-finals
Night of Champions, featuring the Callaghan Cup Championship and the SNHL All-Star Game, followed by a year-end celebration
---